On Thursday was this year's CBL Forum, where we presented our project to the parents and faculty of Windward. We told them about our problem, heart attacks, and how much it was affecting the world, explained what we had done to combat the increasing issue and risk of cardiac arrest in the Windward community. We got very positive feedback about our sticker solution, and everyone we talked to had seen the stickers and/or posters around campus! Also, many agreed that we made a massive impact on our community in preventing heart attacks. We believe that the Forum went well. Once we had compiled our data and analyzed it, we found that the results were almost TRIPLE OUR GOAL! In fact, we had predicted and set a goal for a 10% margin decrease between unhealthy and healthy foods with and without the stickers. Our final margin was

28%

. Approximately 7000 units of unhealthy foods were sold when our stickers were not on the foods, and about 3900 units of unhealthy foods were sold that same week. After we had implemented our stickers, about 6000 unhealthy units were sold and around 3800 unhealthy units were sold. This shows that 13% less unhealthy foods were bought, which was the primary goal of our project. Although sales for healthy foods slightly dropped as well, they dropped by much less. Obviously, we made a momentous impact, which is amazing!

​
Powered by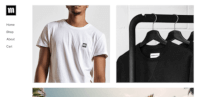 Create your own unique website with customizable templates.